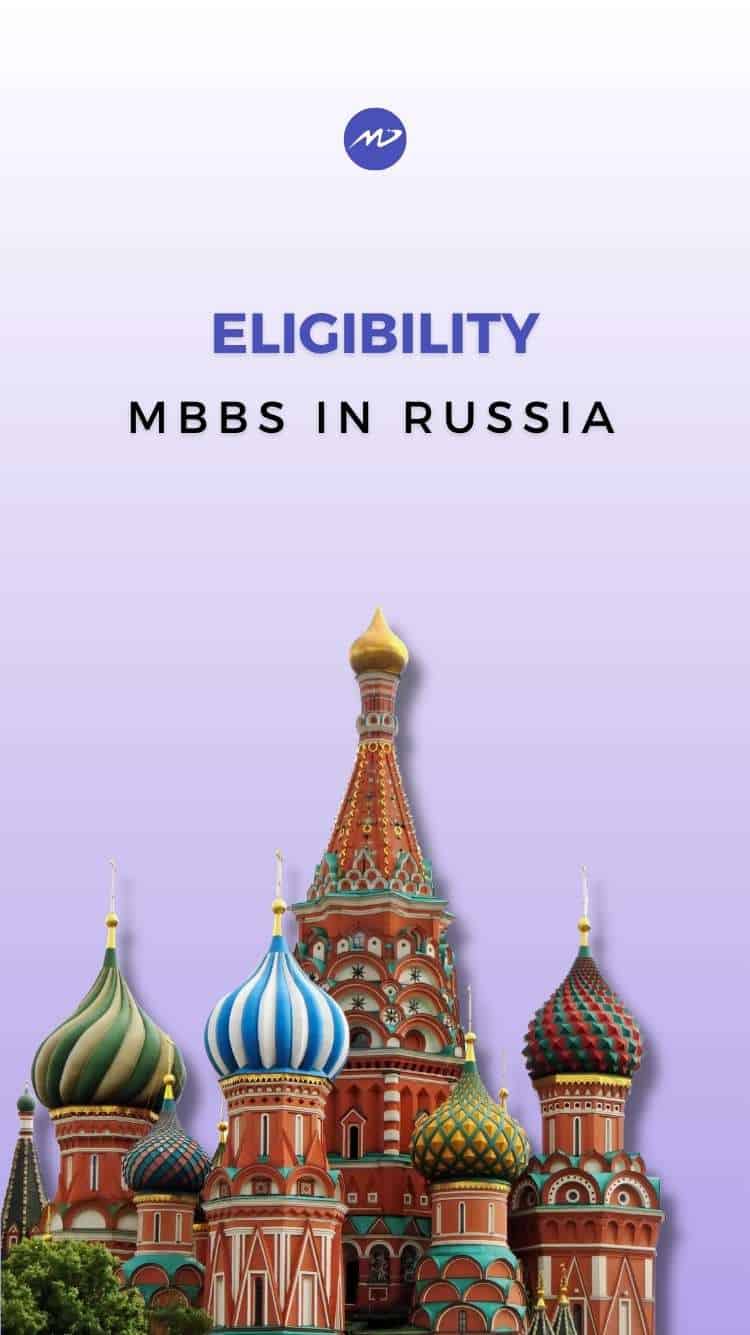 MBBS in Russia Eligibility for Admissions
| | |
| --- | --- |
| NEET Qualification | Students must qualify in NEET to get admission |
| Minimum Age | 17 Years on or before 31st December |
| Maximum Age | 25 Years |
| Minimum Score in 10th and  12th Standards | 50% (PCB  – 50%) English – Passing Marks |
| Admission Helpline Number (All India) | +91 9717172071 |
| Last Date to Apply | First Come First Get |
It is one of the preferred destinations for MBBS because of the highly subsidized fee by the Russian Ministry of Health & Education in comparison to western countries. When you get high-quality education backed by low-cost and professional trainers, it is one of the main reasons for choosing top medical universities of Russia for MBBS. Russia has been a popular destination for international students who wish to carry out MBBS. With outstanding facilities, technology, and infrastructure, Russia has occupied almost 30 positions amongst the top 100 ranking Medical Universities according to the World Health Organization's (WHO) Directory of World Medical Schools.
There are almost 57 medical universities in Russia and in all the institutions; the student-to-teacher ratio is 7:1. Most of these universities impart education in English Medium, which also teaches students the Russian language making it easy for medical students to practice.
The duration of MBBS in Russia in English Medium is 6 years and in Russian Medium is 7 years.
Why Study MBBS in Russia
Medical education in Russia allows direct MBBS Admission without any entrance exam. MBBS fee here is very low because the Russian Government provides the subsidy for education and the average fee is between 2.5 Lakhs to 5 Lakhs annually. Students are also trained for MCI screening tests during the medical course. The professors who impart knowledge are aware of the syllabus and pattern of the MCI test.
Since the medical universities in Russia are listed in WHO and MCI, a student studying here can practice anywhere in the world including India. Even the accommodation provided to students is a fully furnished hostel inside the university campus with fresh and quality food.
Medical courses are taught in English and Russian languages, MBBS students are also trained in the Russian Language because by learning the Russian language a student can communicate with patients in the hospital during the time of medical practice.
Benefits of Pursuing MBBS in Russia for Indian Students
Admissions are on a first come first serve basis, but no entrance exam is held.
The course fee is low and subsidized by the Russian government.
Worldwide recognition of the degrees offered by Russian medical universities.
Indian canteen or food joints can be found.
Eligibility Criteria for MBBS in Russia
As compared to MBBS in India which is of 4 years, MBBS in Russia is of 6 years, however, the pattern is similar to the Indian curriculum and the doctors will be awarded the MBBS degree, after which they can get an internship in Russia or India.
Applications along with the required educational documents will be sent to the college and once the admission letter is received with a visa invitation letter, you can be set to go for MBBS studies. This is where MBBSDIRECT.com comes into the picture, to assist you with the details.
An aspirant carrying a minimum of 50% marks in 12th Standard in Physics, Chemistry, and Biology. If the candidate belongs to any reserved category, then a score of 40% in Physics, Chemistry & Biology is doable. This is according to MCI guidelines.
There's no entrance test required, admission is granted on a first come-first served basis.
The student should have completed the age of 17 years on or before 31st December of the year of admission.
Students Must Qualify NEET Test.