January 13, 2019
Posted by:

MBBSDIRECT Editorial

Category:

MBBS in Ukraine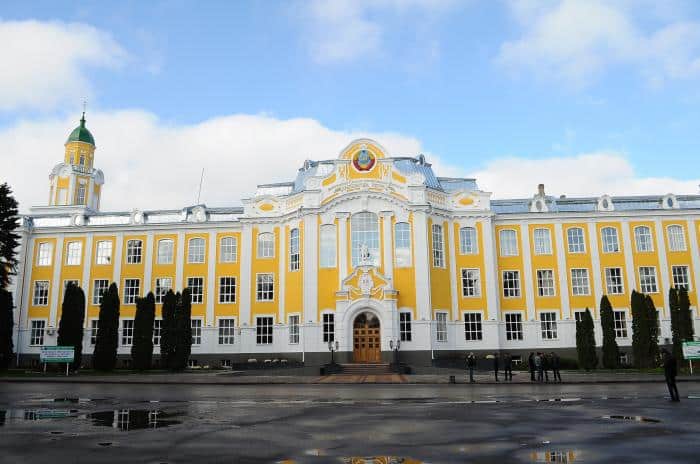 Bogomolets National Medical University
O.O. Bogomolets National Medical University is one of the oldest and one of the most renowned medical universities in Ukraine. The university is well-known and widely acknowledged all around the globe. The students are facilitated with opportunities to work globally as the university is accredited by all top institutions and most pass outs are working with reputed government and private organizations around the world.
University at a Glance
Founded in: 1841
Address: Tarasa Shevchenko Blvd, 13, Kyiv, Ukraine, 01601
Number of Students: over 10,000 students (including about 1,300 international students from 56 countries)
Academic Staff: 1,200
Country Rank: 20
World Rank: 4,628
Accreditation: IV
Recognized by: Ministry of Health of Ukraine, MCI, UNESCO, WHO, ECFMG, DAAD, Medical Board of California
Departments: 6
Scholarships: Available
Library: more than 700 thousand units of scientific literature including electronic database supply; 2 computer reading halls with internet access
Food: Indian food available in the university canteen
Climate: Average Temperature is -5°C (January), +19°C (July); Average Annual Rainfall is 100mm
Nearest airport: Kyiv International Airport in Kyiv, Ukraine
Admission Procedure: Direct
Faculty:
The faculties of O.O. Bogomolets National Medical University is:
4 Medical Faculties
Dental Faculty
Pharmaceutical Faculty
Medical Psychological Faculty
Faculty for Training for Doctors for the Armed Forces of Ukraine
Faculty for Training for Foreign Citizens
Achievements:
O.O. Bogomolets National Medical University has one of the largest hospitals in Kiev, used for practical teaching purposes for students. There are over 8,000 beds under the Faculty of Medicine and 300 seats under Faculty of Dentistry, treating about 3,50,000 patients from across the world. Students studying at the university are given training in the hospital for practical exposure and skill enhancements. The university has an enormous scientific laboratory for performing several scientific kinds of research. Under the guidance of world-renowned scientists who aim for new developments, students can assist in various research and development projects being held in the laboratory.
Campus Life:
O.O. Bogomolets National Medical University has a multi-cultural environment, encouraging students from almost every part of the globe to stay and study together. The amount of international exposure that students get to understand various traditions and cultures is remarkable; while students from different countries also indulge in their own national festivals and celebrations. Extraordinary medical feats are performed by the university's distinguished alumni at highly specialized affiliated medical centres all over Ukraine. The university is acknowledged for its high standard of education and rigorous assessment policies which ensure an optimum standard of education and training.
Medicine Program:
Duration: 6 years
The medium of teaching: Ukrainian, English, Russian
Mode of Study: Full-time
1st-6th Year Fee: 270,900 Rupees per year (approx.)
Accommodation:
O.O. Bogomolets Medical University provides hostel facilities for students at lowest fees. Hence, students don't have to be concerned about high rental expenses in Kiev. Students can enjoy a European standard of living at a very low cost. Also, there are several recreational options such as- restaurants, theatres, beaches, and parks for students to spend their leisure time.