MBBS in Georgia for Indian Students 2022
Georgia is a unitary, semi-presidential independent state of the Caucasus region of Eurasia. The capital of Georgia is Tbilisi. Georgia covers a territory of 69,7000 km and its population is almost 4.7 million. In addition, Georgia country medical education is famous across the world. Studying MBBS in Georgia is something worth considering in the case of students who wish to study MBBS in Europe. Moreover, the tuition fee at the university is more affordable than in other countries, which makes Georgia, a popular choice among Indian students.
Medical universities in Georgia are recognized by many international bodies such as WHO, MCI, FAIMER, WFME, and others are the largest in number. Some of the most eminent medical universities in Georgia include Tbilisi State University, Tbilisi Medical Academy, and David Tvildiani Medical University. Among these, Tbilisi State University is the oldest medical institution in the whole Caucasus region.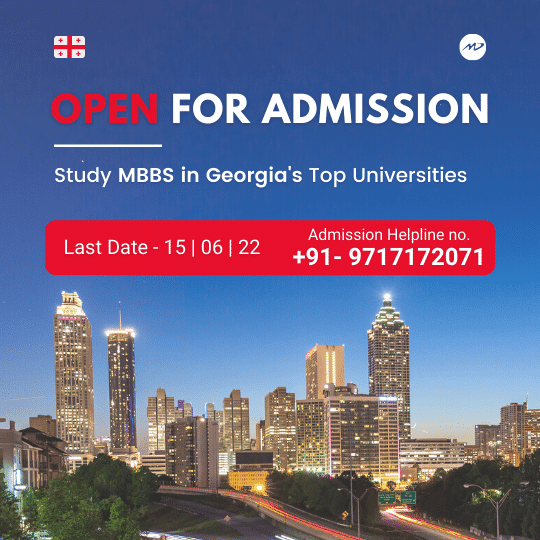 For pursuing MBBS program in Georgia, students need to follow a 6 years MBBS in Georgia. Moreover, they also offer special coaching programs, which follow during the last year of the MBBS segment. This special course is made for those Indian students who want to practice in India. After completing the program, aspirants will be eligible to sit for licensing examinations such as USMLE. As soon as the universal license is cleared, the applicant can practice anywhere in the world, which includes India.
MBBS in Georgia – A Quick View
Capital

Tbilisi

Climate

Moderate Weather throughout the year

No. of Indian Students

More than 10,000

No. of Medical Universities

25 English Medium Universities

Top Universities for MBBS

David Tavildiani Medical University

European University

Petre Shotadze Tbilisi Medical Academy

Tbilisi State Medical University

Lowest Tuition Fee

Highest Rated University

David Tavildiani Medical University

Average Living Cost

Application Deadlines

1st June Every Year

Basic Eligibility for MBBS in Georgia

12th PCB – Above 50%, NEET Qualification

All India Students Admission Helpline

+91 9717172071
David Tvildiani Medical University MBBS Fee Structure 2022
| | |
| --- | --- |
| Fee Details | 1st Year |
| Tuition Fee | $8000 |
| Hostel Fee | $1200 |
| Medical Insurance | $300 |
For Full Fee Structure Whatsapp on 7303552295
Petre Shotadze Tbilisi Medical Academy MBBS Fee Structure 2022
| | |
| --- | --- |
| Fee Details | 1st Year |
| Tuition Fee | $7000 |
| Hostel Fee | $1000 |
| Medical Insurance | $300 |
For Full Fee Structure Whatsapp on 9625296813
European University Georgia MBBS Fee Structure 2022
| | |
| --- | --- |
| Fee Details | 1st Year |
| Tuition Fee | $5500 |
| Hostel Fee | $1000 |
| Medical Insurance | $300 |
For Full Fee Structure Whatsapp on 9667646813
MBBS in Georgia Highlights
No IELTS or TOEFL is required to study MBBS in Georgia.
No interviews and funds are mandatory to obtain a study visa to study MBBS in Georgia.
Georgia offers the finest studying opportunities without troubles and hassles to international students.
In Georgia, all the state and private Universities award Bachelor's degrees, Master's degrees, and Doctorate degrees to national and international students.  Other significant features that induce international students to study in Georgia are the affordable course fee, economical living expenses, and cheap travel expenses. Whatever spends in India for any medical or non-medical specialties, almost one-fourth of it is paid when studying in Georgia. University's primary aim is to improve both teaching and research experiences constantly and was established for contributing to a highly educated society.
MBBS in Georgia Eligibility:
For admission in medical colleges in Georgia, the student must be at least 18 years of age and must have passed 10+2 or equivalent qualification with at least 50 per cent marks in Science background and Physics, Biology, and Chemistry as compulsory subjects.
Documents Required for the admission for MBBS in Georgia:
10th and 12thMarksheet
Transfer certificate/Leaving Certificate and Birth Certificate should be in English.
Migration Certificate
Six passport size photos in the white background.
Travel and Health insurance
Valid Passport
Six-month bank statement of guardian
Medical certificates mentioning HIV analysis and vaccination results.
In addition to these documents, each college may have its individual requirements. On completion of the bachelor's program, one can enrol to the master's program. With a consistent academic record, it will be easy to enrol in the master's program.
Accommodation
Universities provide Hostel facilities to international students, while students who do not opt to stay in a hostel stay off Campus and have various other accommodation options like Hotels, lodges, homestay with a host family, private apartment, etc. If you are studying MBBS in Georgia, you can choose off-campus and on-campus stay according to your need.
Facilities
Each class can accommodate an average of 10-14 students. It comprises of same world-class infrastructure offered by much costlier North American and Western European medical universities. The university has the following features:
A world-class library containing 5000 volumes of medical textbooks, guides, manuals, and several audio-video aids.
Internet Facility and computer rooms for learners.
Cultural conferences for foreign nationals studying in the university
Frequent international conferences and seminars on medicine are held where medical pioneers and visionaries from all over the world join to teach and motivate the students in their path to learn, practice, and develop medicine.
Career Scope after MBBS in Georgia
Wide arrays of options are available for the students after passing out from the universities. They can easily apply for responsible positions in different healthcare and medical industry, having their own specifications and can give shape to their dreams. It is an unavoidable truth that there is a significant rise in the healthcare industry nowadays, therefore; people are opting for this service more. The future doctors, passing out from the universities have a fair chance of getting a job in high profile medical centers.
The faculty at the university is diverse and well known for the advanced teaching patterns, which they adopt. Furthermore, faculties offer special attention to the overseas students and will equip them with the skills and knowledge necessary for churning out a successful career path.
Recreational activities in Georgia
A Study in Georgia is interesting, as there are great numbers of recreational activities according to the season. Here, the educational administration always encourages its students to participate in outdoor and indoor sporting and cultural activities. Snow in winters and water in summers is the base of many sports and activities in Georgia. Foreign students usually prefer the scenic beauty of the country and surroundings to explore after a long hectic week of studies through cycling and tracks all spread over the city. They travel around to understand nations' culture by meeting people and visiting various tourist attractions. Universities and colleges have sports facilities on the campus where one can participate in various indoor and outdoor sporting activities. Apart from this, all the other places that are present in India like Cinemas, Restaurants, Amusement Parks and Shopping Malls are also available in the country.