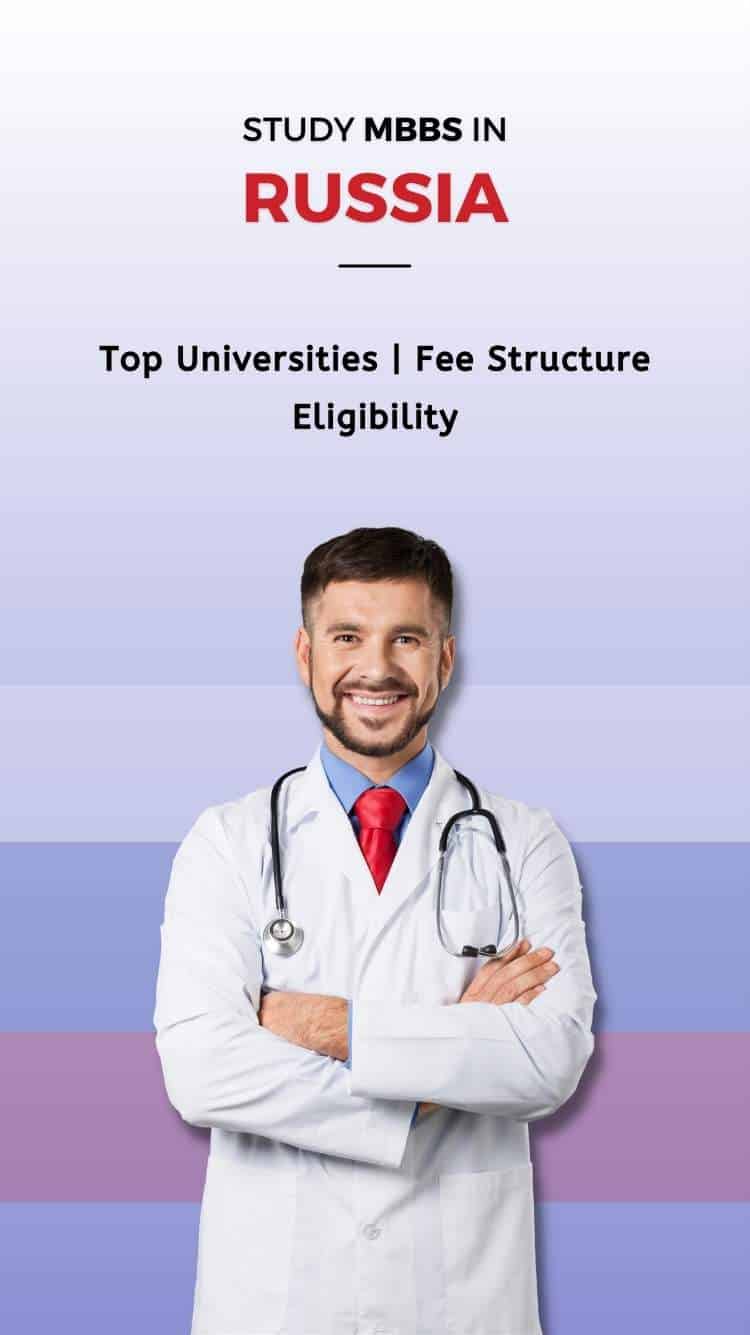 MBBS in Russia Quick Facts
Academic Year Starts: 1st September every year
Eligibility:
50% in PCB in 12th Standard, NEET qualification Mandatory
Age: Candidates must be min. 17 years old 
NEET Qualification is Mandatory.
The duration of the MBBS Course in Russia is 6 Years.
All India Helpline Numbers : +91-9717172071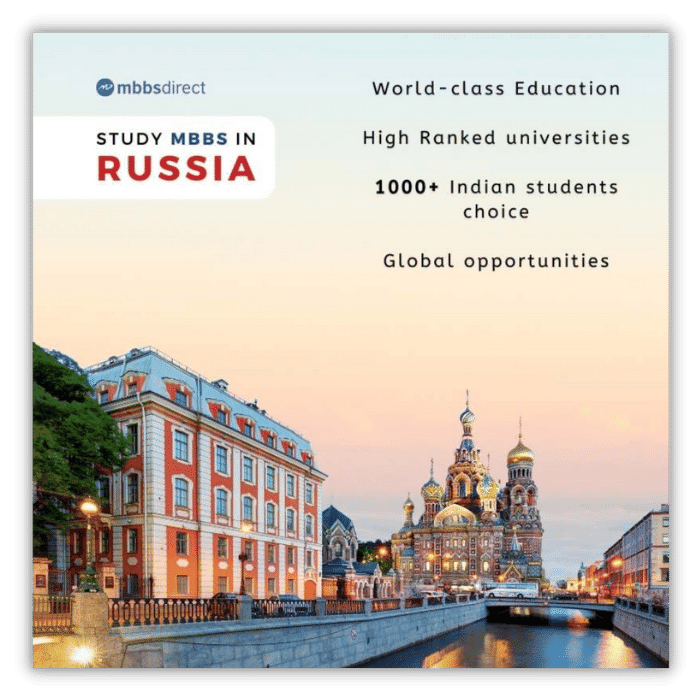 The study of MBBS in Russia is well-known in India because, dating back to 1996, the Indian scholars who were obsessed to become doctors began to travel here. In 25 years, over 6,000 doctors have come back to India, and about 10,000 scholars are studying MBBS in non-pricey 48 MCI accredited Russian Universities.
Many have resided abroad working in different hospitals after finishing their MBBS study in Europe. Medical institutions for MBBS in Russia acknowledged by MCI opened fresh avenues for scholars in India. As of last year, Russian MBBS colleges with cheap costs attracted over 2,000 students from India. Russian Medical education is well-known all through India.
Furthermore, India's Russian MBBS degree is official, thanks to the MCI accredited MBBS colleges in Russia. Not all offer the most excellent education, and many scholars are studying just in the best 10 medical universities in Russia.
MBBS in Russia Fee Structure
The non-pricey structure of best and leading Russian Medicine universities may be depicted as:
Firstly, the Far Eastern Federal University, Its fees are up to Ruble 2,95,000 per year x 6 Years, equal to Ruble 17,70,000. The duration of study here is 5.8 years. Moreover, the application is ongoing.
Secondly, the fee structure for Volgograd State Medical University is USD 5900 per year x 6 years. This is equal to USD 35400. The study duration here is 5.8 years, and registration is available too.
Finally, the Petrozavodsk State University charges Ruble 2,30,000 per year x 6 years. This is equal to Ruble 13,80,000. Application is ongoing, as well, and duration is 5.8 years.
The good news about these top universities is that they implement an English Teaching Scheme in the class. Since this is the major issue with students getting into the right university with English teaching classes, we have provided easy-to-choose university guidance on this problem.
MBBS in Russia: Everything You Need To Know
The study of medicine in Russia is recognized for its premium education. Admission to Russian medical universities is a complex system. MBBS in Russia for international students is a developing trend as of 25 years ago. When it comes to the cost, it's very affordable, unlike the amount paid by students to Indian medical institutes. 
A medical university in Russia proposed studying medicine is now the top preference by nearly 2,000+ Indian scholars every year. The duration of MBBS in Russia is 5-8 years. The 1-year practical internship in India post-course conclusion must be completed and on clearing NEXT/FMGE Exam.
MCI Accredited Colleges
Which are the leading and Best Non-Pricey Russian Medical Universities for Indian Scholars?
Everybody is asking for the leading medical universities in Russia for Indian scholars. In line with that, they have 2 additional questions like comparing MBBS in Ukraine vs. MBBS in Russia.
According to the rating of the colleges listed on the Indian delegation in Russia, you can choose your college in Russia for Medicine.
You may be asking, "Why study MBBS in Russia? Why not any other countries?
Now here's why you should study MBBS in Russia
The first reason is the Quality of Education.
The syllabus of MBBS in Russia is packed with hands-on knowledge and practical experience in a realistic situation. The top colleges have the skill to teach MBBS courses in Russia for up to 150 years!
Studying MBBS in Russian medical universities for Indian scholars is significantly better, as some private medical schools don't have the quality of education and hands-on experience. Acquiring an MBBS degree in Russian best ranked Medical Colleges with English taught classes guarantees a great medical profession. MBBS in Russian in English is probably available at some top and good Russian universities for Medicine
Another reason to study medicine in Russia is the low-cost structure
Studying medicine in Russian universities will always be preferable to contributing to Indian medical schools due to the non-pricey cost of medicine in Russia. Grabbing the entire benefits of an ideal Russian MBBS college is an excellent idea. There are hundreds of thousands of Indian scholars studying in Russia 25 years ago at Russian medical universities for MBBS.
Fees of Medical universities in Russia vary from university to university. The cost of MBBS in Russia might differ based on the Grade, type, and university location. Studying medicine in Russia is an excellent choice as the Russian currency has dropped significantly.
The third reason is Low eligibility for Admission
The standards set for eligibility to study Medicine in Russia are nominal, beginning from 50%-60% in PCB at the 12th level. The subjects are the same with Indian medical schools. Therefore, studying medicine in Russia maintains its consistency and simultaneously features diversity, which is unique.
To wrap it up, Russian medical university fees are all-inclusive. They cover tuition fees for all courses taught in English, Hostel accommodation, living costs, food, and miscellaneous costs like resident permits, insurance, textbooks, and much more.
For these reasons, why not study MBBS in Russia now and make the most out of your Medical Career.
Know more about MBBS in Russia
MBBS in Russia FAQ
Which Universities offer English Medium MBBS, in Russia?
There are many English medium universities in Russia for MBBS. We recommend few out of them as following-
Crimea Federal University – High FMGE Passing Percentage
Kazan Federal University – World Ranking 370
Altai State Medical University – Top Russian Medical University, High Quality Facilities
Bashkir State Medical University – Low Cost and Great Facilities
Far Eastern Federal University – World Ranking 493
What are the important factors for university selection?
Students must select university after carefully consideration of following factors-
University Research output
University World Ranking
Medium of Study
Hospital Attached
Nice Accommodation Facilities
Urban Campus
Which University in Russia offering English Medium MBBS at the Lowest Fee?
Far Eastern Federal University in Russia is offering English Medium MBBS at lowest cost. Expense of Tuition Fee, Hostel Fee, Medical Insurance and Visa (All inclusive for 6 Years) is ₹20.25 lakh . It is the lowest in Russia among English Medium Universities.
What will be the living cost in Russia per month including food?
While living in the university accommodation, students might need upto ₹14,000/month for their living expenses including food and personal expenses.
Will there be any problem because of very cold weather of Russia?
It is true that weather in Russia is very cold and so they developed their infrastructure accordingly. Government provide centralized heater in every building so the temperature inside building is always around 25C. 
When outside, students need to wear Russian jackets and shoes.
So you won't face any problem in Russia because of the temperature.
Does 6 Year MBBS Course in Russia includes internship as well?
Yes, it does. but Indian students need to do the one-year internship again in India as per the guidelines of MCI.
What will be the validity of MBBS Degree from Russian Universities?
If you want to practice in India, you must take admission in the universities which are listed in MCI.
If you have plan to practice elsewhere, check the respective country's guideline for medical universities. Generally almost all the Russian universities offer worldwide valid degree.
When will the classes start in the Russian Universities?
For MBBS in Russia for International Students –
For First Year Students – Classes starts from October 15th every year in state universities, and from August 25th every year in Federal Universities.
Because of Covid-19 pandemic, classes will be online from October till December. As Russia launched its Covid-19 vaccine, so Russian universities can start in-campus classes from October 15th, 2020. We will update you about that.
When will be the vacation while studying MBBS in Russia?
There are two major vacations for the MBBS students –
Winter Vacation: 20 days vacation from Mid January till Fist Week of February.
Summer Vacation: 2 months vacations from mid June till End August.