Guangzhou Medical University, China
Guangzhou Medical University, formerly known as Guangzhou Medical College, is located in the third largest port city in China, Guangdong Province. The university faces 31 provinces, autonomous regions, and municipalities directly under the Chinese central government, Hong Kong and Macao regions to recruit 1,500 undergraduates and 550 postgraduates, each year. The clinical medicine discipline of the university is ranked among the top 1% in the world for Essential Science Indicators rankings. Guangzhou Medical University boasts 1 state key discipline, 9 state key clinical specialities and considerable provincial disciplines and specialities, among which respiratory medicine ranks 1st and thoracic surgery ranks 5th in China.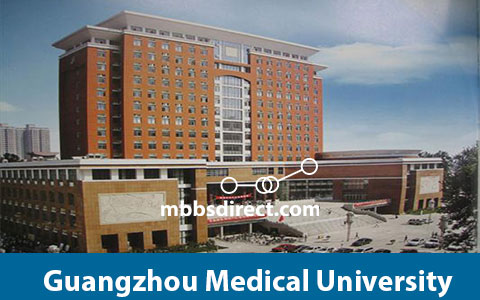 University at a Glance:
Established in: 1958
The medium of Study: English
Acknowledged by: WHO, MCI, MOE, AMC, USMLE
Scholarships: Available
Number of Students: 23,300
Academic Staff: over 1,000
Library: available with internet service
Academic Session begins: September
Average Annual Temperature: 22 °C
Food: a large canteen with 4 floors
Guangzhou Medical University has consistently emphasised on attracting talented faculty from worldwide and is presently led by Prof. Zhong Nanshan, a member of the Chinese Academy of Engineering. The faculty comprises 94 supervisors for PhD candidates and 774 supervisors for master students while giving importance to training professionals with innovation and hands-on skills. The university has 8 directly affiliated hospitals and 11 non-directly affiliated hospitals, which specialise in respiratory diseases, neuropathy, cardiovascular diseases, gynaecology, obstetrics, cancer, dental care, rehabilitation, minimally invasive surgery, primary care and many more. Also, Guangzhou Medical University is devoted to medical research and has made great achievements in the medical field. The academic periodicals edited and published by the university are acknowledged globally.
Medicine Program:
Bachelor of Medicine and Bachelor of Surgery (MBBS)
Duration of course: 5 years + 1-year internship
The internship starts from the last year with a duration of 48 weeks. Students need to do the internship in one of the 8 affiliated hospitals of Guangzhou Medical University, with a total of over 5,292 beds. Before the internship, students need to reach HSK 3 and can live in the university dormitory during the internship. 
International Collaborations:
Within several years, Guangzhou Medical University has succeeded in communicating with many foreign universities and built up good cooperation with universities and research institutes, such as: The University of Edinburgh, University of Birmingham, Royal University of all Practitioners, University of London, University of Western Brittany, University of Wolverhampton, Harvard University, The University of Washington, San Francisco State University, Arkansas State University, Indiana University, University of Pittsburgh, California State University, Northridge, Queensland University of Technology, The University of Western Australia, Hong Kong University, Chinese University of Hong Kong and many more.
Accommodation:
Guangzhou Medical University provides the teachers and students with an ideal environment for teaching, studying and living. The accommodation facilities of the double room include separate bathroom, broadband internet access, and air conditioner. International students live in International Students Apartment where two students share a room. The campus has a gymnasium and various playgrounds for playing football, basketball and other sports. Internet service, supermarkets, and stores are available at university and international student dormitory.