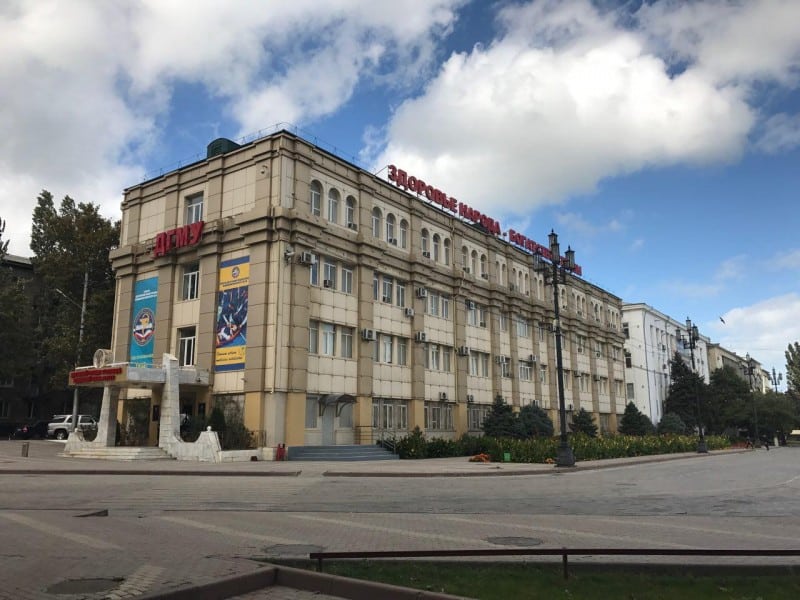 About University
Orenburg State Medical University (OSMU) was founded in August 1944 by F.M. Lazarenko as Chkalov Medical Institute. The first doctors graduated in May 1946. The Institute was reorganized into The Orenburg State Medical University on July 15, 1994, by the decision of State committee of Russia on Higher School. OSMU is located in an urban setting of the medium-sized city of Orenburg (population range of 500,000-1,000,000 inhabitants), around 1,478 kilometres southeast of Moscow, very close to the border with Kazakhstan.  Orenburg State Medical Academy (OrSMA) is a small (enrollment range: 3,000-3,999 students) non-profit coeducational higher education institution encompassing around 555 members of scientific staff.
Orenburg State Medical University has great influence on the science, economy, & education sphere of Orenburg. It includes core curriculum leading to authoritatively distinguished higher education degrees viz. bachelor degrees, master degrees, doctorate degrees in several areas of study. In this 73-year-old institution, students' past academic record and entrance examination decide the admission strategy. And moreover, the university is recognized by the Ministry of Health & Education of Russia and has the high-quality infrastructure with well-equipped hostels. The university comprises of following eight functional departments:
Faculties:
Department of General Medicine
Department of Paediatrics
Department of Dentistry
Department of Preventive Care
Pharmaceutical Department
Department of Clinical Psychology
Department of Post-graduate Coaching for Specialists.
Department of Higher Nursing Care.
OSMU facilitates the students to study in a healthy environment on academy campus. Students are allowed to focus equally on studies and extra activities. It also offers several academic and non-academic amenities and services to students including a library, housing, sports facilities and/or activities, financial aids and/or scholarships, online courses and distance learning prospects, as well as governmental services.
Besides, the medical faculty was the first division to begin in the university, and after it, slowly others started surfacing. Thus, this field not only fascinates international students to pursue MBBS in Russia but also provides good exposure to students in fields of research too. Moreover, the university has offered medical courses in English medium. Since then there has been a growing influx of students from all around the world to pursue MBBS in Orenburg. And OSMU about greets every eligible foreign student to come and join MBBS.
The faculty instructs students in the field of 'General Medicine' and about two hundred newly trained experts pass out from the university yearly serving the patients throughout the nation and in other parts of the globe. The students are taught nearly 54 subjects during the training program. There are around 47 departments and 300 professors and associate professors and doctors. The students have trained everything right from the fundamentals of the human body to the complete functioning of the body. Hands-on-training is given to the students in the hospital campus itself regarding treatment of patients. Research work is incorporated in the syllabus of every student to develop the innovative skills during MBBS.
Scientific Research
Professionals in the sphere of medicine have graduated from the institution and are working in state and private medical institutions with central positions in state administrative services while resolving main issues on the development of modern medicine. Many proficient alumni are progressing towards scientific work after graduation due to the following asset in the field of research in the academy:
Scientific and research work carried out globally at top-priority in the directions of fundamental and applied studies.
Due to high-quality infrastructure in the academy, carrying out research work with intellectual property protection and execution of new medical technologies is trouble-free.
350 invention patents were received by the personnel of the academy.
Database of scientific-research, remote access to the database design and experimental projects are permitted.
Modern equipment, software and tools are available to the researchers.
Common international innovative projects, development of licensing mechanisms and international certification, the formation of international groups are encouraged by the management of the academy.
Student life
Orenburg State Medical University has three hostels. Indian student pursuing MBBS in Russia lives in a 3rd hostel in the university campus. Hostels became the second home for the learners who came from different regions, as all the favourable conditions are created in the hostels. The sports club was opened in University in 2013 and its main aim is organization and enhancement of sports work with students, propaganda of healthy lifestyle and upgrading of sportsmanship. 12 sports leagues viz. aerobics, swimming, basketball, volleyball, indoor soccer, track-and-field athletics, table tennis, and lifting, skiing, chess are functioning in the Club. Indian students enthusiastically participate in sports activities.
At OSMU, due to a large number of students and limited space availability in the dormitories, only certain groups of students got an opportunity to apply for university lodgings:
Students from other towns and cities;
Post-graduate students, students working toward doctor's degree, trainees; students attending preparatory, retraining, or upgrading courses (for the course period);
Applicants (for the entrance exams period);
Students of the correspondence department (for the session);
Apprentice with families.
The students' dormitories have access to the internet and various online databases and library directory. More than 120personal computers are available in the dorms. There is free internet access from 10 p.m. till 6 a.m. Each student has a free email account that they can use.
In OSMU, the international government in agreement with Russian Federation enrols the international students. Hence, they are also provided with university accommodations on the similar general terms as students from the Russian Federation.