January 16, 2019
Posted by:

MBBSDIRECT Editorial

Categories:

MBBS in Russia, Russian University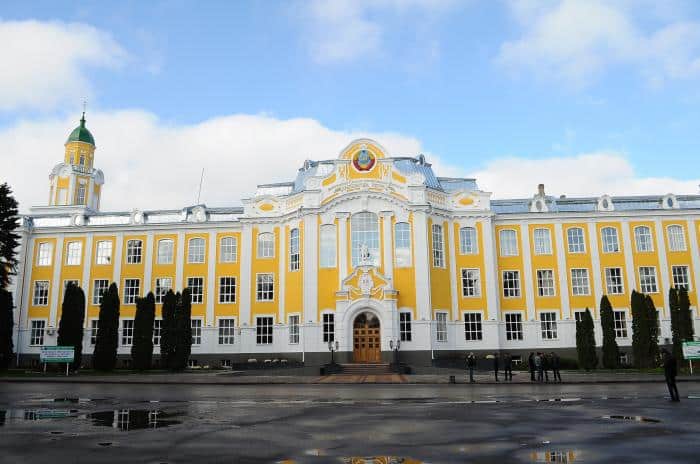 Ryazan State Medical University, Russia
University at a Glance
| | |
| --- | --- |
| Founded in: | 1950 |
| Address: | 9, Ryazan, Ryazan Oblast, Russia, 390026 |
| Number of Students: | 5,500 (around 1,000 international students from 56 countries) |
| Recognized by: | Ministry of Health, Russian Federation, WHO, MCI |
| Academic Year Begins: | 1st September |
| The language of Instruction: | English, Russian and French |
| Scholarships: | Available |
| University Campus: | 56 departments, 16 academic buildings |
| Number of Departments: | 56 |
| Teaching Staff: | 499 |
| Library: | Available |
| Food: | University mess available |
| Climate: | -10 °C (January), +19.4 °C (July) |
| Nearest airport: | Moscow Domodedovo Airport in Moscow, Russia |
About:
Ryazan State Medical University is named after academician I.P. Pavlov. The university has been training qualified personnel for the system of Health Care System for more than 70 years. Its infrastructure includes advanced research and 17 leading Russian scientific schools that are well recognised in Russia and abroad. Along with several international projects, Ryazan State Medical University is an organizer of international congresses and conferences. The university also has a partnership with different universities and scientific centres. The University focuses on qualitative education and lifelong learning achieved through classical traditions of the high medical school, educational technologies, and highly qualified academic staff. The professionals aim for developing specialists in health protection, who are efficient on Russian and international level.
Faculty:
International students are trained by faculty including the compatriots abroad, admitted to the university in the main educational programs of higher education specialities in General Medicine, Dentistry, and Pharmacy.
The 6 Faculties of Ryazan State Medical University include:
Faculty of General Medicine
Faculty of Dentistry Medicine
Faculty of Pharmacy
Medico-preventive Faculty
Faculty of Clinical Psychology
Faculty of Postgraduate Studies
Medicine Program:
Duration of course: 6 years
The form of Studies: Full-time
Campus life:
International students can take part in all events held at Ryazan State Medical University, which includes amateur performances, sports competitions, volunteerism, and many more. Days of national culture is regularly organized by foreign students and are widely popular at the university because it helps the students to get acquainted with traditions, costumes, folklore, and traditional cuisines of their foreign mates.
Accommodation:
Ryazan State Medical University comprises of 56 departments, 16 academic buildings, a base dental clinic, a central scientific research laboratory, a consulting diagnostic polyclinic, a vivarium, a botanic garden with the experimental ground, a bee yard, 1 sports and health camp, 4 comfortable hostels for foreign students, gyms, a mini-football ground, 2 basketball courts, tennis court, and various other facilities.
Fee Structure:
1st year- 325,000 Rupees (approx.)
2nd-6th year- 247,000 Rupees per year (approx.)
Total Fees- 572,000 Rupees for six years (approx.)