Tyumen State Medical University, Russia
University at a Glance
| | |
| --- | --- |
| Founded in: | 1963 |
| Address: | Tyumen Oblast, Russia |
| Number of Students: | over 10,000 (around 850 foreign students) |
| Recognized by: | Ministry of Health, Russian Federation, WHO, MCI |
| Academic Year Begins: | 1st September |
| Language of Instruction: | English |
| Scholarships: | Available |
| Educational Programs | 122 |
| Number of Departments: | 68 |
| Teaching Staff: | 942 |
| Hostel: | 5 wi-fi enabled dormitory hostels for girls and boys with a capacity to provide for two, three or four pupils per room. |
| Climate: | January -16.7 degrees and July +18.6 degrees |
| Food: | University mess available |
| Nearest airport: | Roshchino International Airport, Tyumen Oblast. |
Located in the city of Tyumen, Tyumen State Medical University is a public establishment for medical education. The university boasts of five academic buildings along with twenty four medical institutions from Tyumen and Tyumen region. The structural units of the institution has a research library, an academic multidisciplinary clinic, a computer testing centre, the Museum of Anatomy and Museum of History, a publishing centre and three hostels which provide different levels of amenities as needed by the pupils.
The Tyumen State Medical University is proud to acknowledge the graduation of more than fourteen thousand students in the last fifty years. Currently, there are more than six thousand students who are enrolled in sixty two departments of the university and being taught by more than 900 teachers.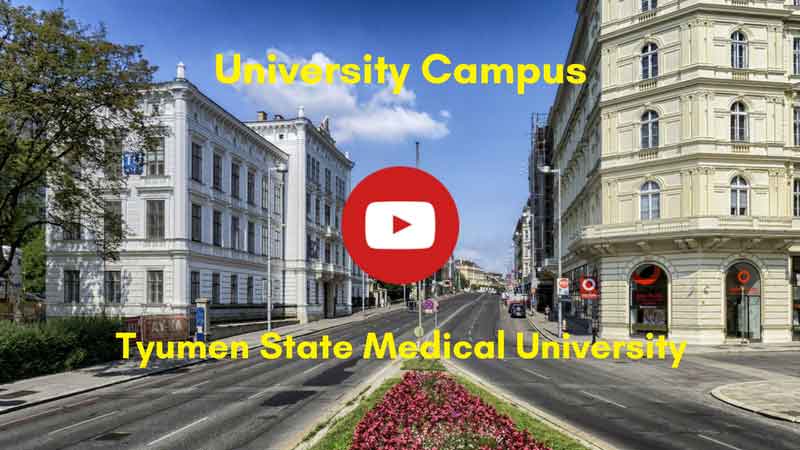 The Tyumen State Medical University has made sure to impart quality education by participating in various research programs with various other countries like USA, Germany, and France etc.
Tyumen State Medical University Fee Structure:
Scholarship Available for Tyumen State Medical University, Russia.
| | |
| --- | --- |
| 1st Year | $6500 (Rs. 4.35 Lakh) |
| 2nd – 6th Year | 5 X $3000 = $15000 (Rs. 10.05 Lakh) |
| Total Fee for 6 Years | $21500 (Rs. 14.40 Lakh) |

It is an approximate amount of fee payable by the student. Actual fee may differ depending on the currency fluctuation and inflation rate.This above fee structure include tution fees and hostel fee, if students want to join Indian mess, he has to pay $120 monthly for the Indian food.