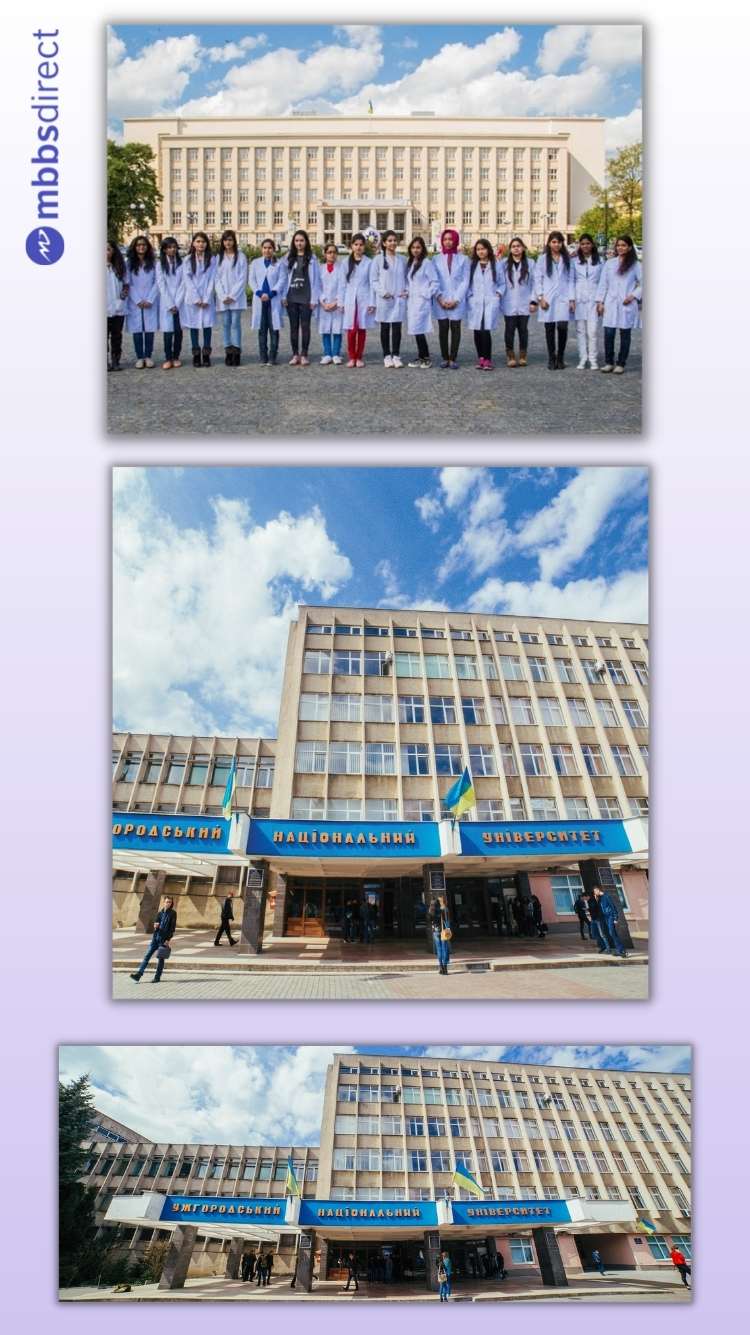 Quick Facts

Founded on: 19 July 1945
Address: Universytets'ka St, 14, Uzhhorod, Zakarpats'ka oblast, Ukraine, 88000
Number of Students: 13,600
Recognized by: MCI, WHO, IMED, US Education Department, General Counsel of Medicine of Great Britain, UNESCO
Language of Instruction: English and Russian
Number of Academic Staff: 3,000
Faculties: 20
Departments: 109
Library: over 1.7 million documents
Average Temperature: +5 °C (January), +18 °C (July)
Nearest airport: Uzhhorod International Airport in Uzhhorod, Ukraine
Admission Procedure: No Entrance Examination
About:
Uzhgorod National Medical University is one of the leading universities in Ukraine. The university has a history of over 6 decades, in the field of medical education around the world. The university is popular among aspirants in Ukraine and abroad for its quality education and practical exposure towards the latest development in the field of medical science. Uzhhorod National Medical University holds the 4th level accreditation; the courses and curriculum are in accordance with the European standards of Education.
Faculty:
Uzhgorod National Medical University officially ranks third among Best Medical Universities in Ukraine and the higher medical schools in Ukraine and medical colleges in Ukraine, according to the last ranking list of the Ministry of Health of Ukraine and world ranking. The university trains specialists and provides high standard medical education in Ukraine through certain education or qualification levels including graduate medical study, junior specialists, and specialists.
Medicine Program:
Duration of course:  6 years
International Collaborations:
Uzhgorod National Medical University is one of the classic universities of Ukraine that holds the highest accreditation level and aims to obtain the status of a research university. Uzhhorod National University is a member of several esteemed international organizations and cooperates with over 90 universities from different countries. In the year 2014, active cooperation with European educational institutions under the new Erasmus+ Programme for the period, 2014-2020 has been started. The inter-institutional agreements, signed by the university, enable studying and teaching abroad for several students and lecturers.
Campus and Accommodation Facilities:
High-quality hostel system with well-furnished rooms.
Brilliant study environment and surrounded by amusement centers.
Total 5 hostels which can accommodate 2,500 students including international students, student's families, graduate students, and interns.
Internet facility is available in every room of the hostels (Wi-Fi and Broadband).
Hostel rooms vary in size and number of conveniences. Dormitory rooms are well furnished and can accommodate 2 or 3 students in a room.
Rooms have beds, mattresses, pillows, blankets, desks, chairs, cupboards, heating, water systems, and suitable lighting for both study and relaxation.
Every section has one common kitchen and washroom too.
Cooperation with the deans and university institutes helps in keeping a close eye on the students.
The campus includes student clinics, shops, cafes, and playgrounds.
On reaching campus, specific accommodation for each student is assigned and after a satisfactory health report, the student is accommodated to the allotted room.
Fee Structure:
1st year: 327,900 Rupees (approx.)
2nd-6th year: 225,000 Rupees per year (approx.)