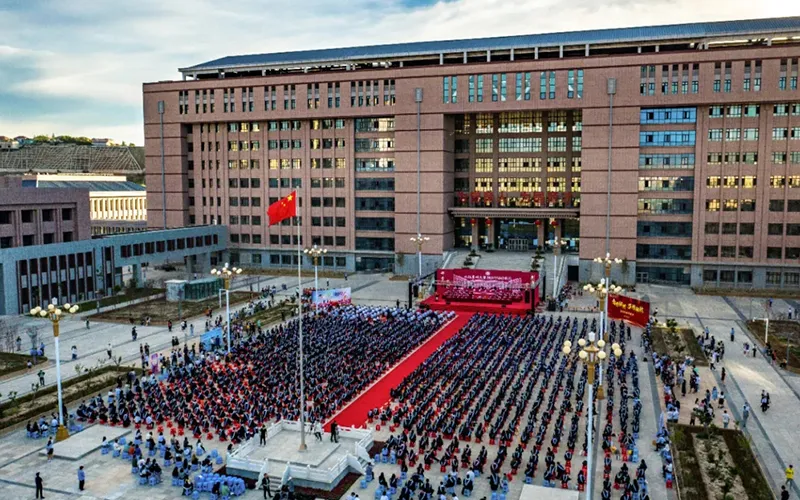 When it comes to choosing the most excellent destination for medical and any education, China is the number one choice of many students. It has been part of the ultimate and elite abroad targets with a very significant story of education. Since students are now looking for quality and highly developed education, China is growing in population, yet it has maintained its quality, both in education and lifestyle. The most astonishing part is that Indian students are now making China their first choice for studying MBBS. As a student, don't miss the outstanding advantages of studying MBBS in China at Xinjiang Medical University, China.
University at a Glance
Established: 1956
Location: Urumqi, China
Academic Staff: 1320
Undergraduate Students: 13,000
Eligibility Criteria: PCB: 50%, NEET – Qualification
Admission Mode: Early Applicants Basis
Indian Food: Self Cooking & Indian Mess
Nearest Airport: Urumqi International Airport
Scholars now seek a quality environment, qualified staff, current and updated equipment, as well as a convincing framework. Since China has most of these attributes, why won't it be a hot cake for a student to studying in such a destination? You are not to be left out, hurry now and study MBBS in China for the best you could ever imagine!
Xinjiang Medical University Fees for MBBS
The fees for studying at Xinjiang Medical University, China includes
36,000 RMB (tuition fee/year) and 4500 RMB (hostel fee/year) when paying in RMB
3,60,000 Rupees/year for tuition and 45,000 Rupees/year for hostel.
Eligibility to study MBBS in China at Xinjiang Medical University
In China, MBBS is popularly known as General Medicine. Therefore, students seeking to study General Medicine at Xinjiang Medical University must qualify for admission. The qualifications for studying General Medicine in this Institution include:
1) NEET Qualification is mandatory.
2) 50% in Physics, Biology, and Chemistry.
3) Applicant must be up to 17 years old as of December 31
4) Medical Fitness certificate
5) The student must have no criminal report.
Medicine Program:
| | |
| --- | --- |
| Medicine Program | Bachelor of Medicine and Bachelor of Surgery (MBBS) |
| Duration of Course | 5 years + 1-year internship |
| Medium of Teaching | English |
Studying MBBS in China at Xinjiang Medical University
Xinjiang Medical College which is now Xinjiang Medical University (XMU), is a medical institute in Urumqi, the capital of Xinjiang Uyghur Autonomous District of the People's Republic of China. It became confirmed by the NME (National Ministry of Education) during the year 1998, and Jiang Zemin entitled it.
As of 2019, XMU came first among the medical colleges in Xinjiang, with 37th position among the Top best 2011 Chinese Colleges in Medicine. With the college facilitating about 25 specialties for undergraduate scholars plus 17 specialties for educational edification, it has made XMU an excellent place to study MBBS in China.
Eligibility Criteria for MBBS Study at Xinjiang Medical University, China
Students that must study MBBS in this destination must reach these requirements to qualify for admission to the university.
Applicant age must be from 17 years of age and maximum age of 25, respectively. It applies to all nations, especially India.
He/she must be from a STEM context with Chemistry, Physics, and Biology inside their curriculum.
Your score must be 50% minimum in the whole subjects during the higher secondary examination.
It is compulsory to have valid school training for about 2 years as per the required subjects
The applicant ought to be fluent or flowing in the English language and ought to be capable of communicating accordingly.
MBBS Timespan in Xinjiang Medical University, China
Medical courses in China take about 6years. 5 years' classroom training worth, where they receive the necessary relevant education. Practical training goes alongside with one-year apprenticeship. However, that begins immediately after the conclusion of the classroom programs. The apprenticeship aims to provide students with hands-on experience in operation, surgeries as well as other applicable training to assist them in handling any circumstances.
Conclusion
Chinese MBBS institutes like Xinjiang Medical University, China are acknowledged by MCI and give quality training with the best updated practical know-how. You could get manifold opportunities while driving your medical line of business in India.
Top Universities | FEE Structure
Top Universities | FEE Structure
Top Universities | FEE Structure
Subscribe us for regular updates on MBBS Abroad
20k Subscribers | QnA sessions | NMC Updates