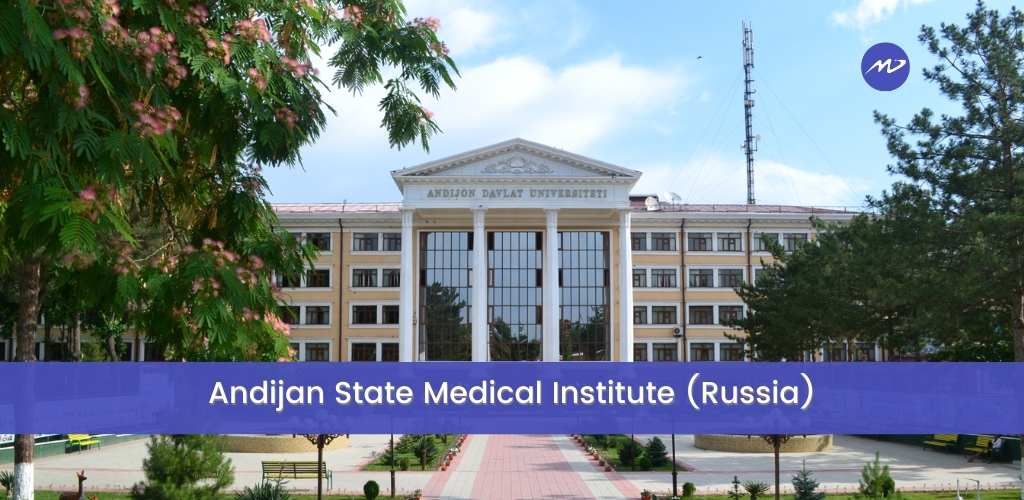 About Andijan State Medical Institute
Andijan State Medical Institute was established in 1955 in Fergana Valley. The school has trained more than 13,000 medical specialists. Andijan State Medical Institute is one of the leading medical institutes in the Republic of Uzbekistan. 
The institute has a clinic which is well equipped with modern diagnostic and treating instruments such as MRT, MSCT, Scanning USI and a Laparoscopic center. There are 870 members of staff working at the institute. Of the members of staff, 34 are doctors of science, and 132 are candidates of science. 
It is considered to be a top preferable choice among all Indian students who are looking to pursue MBBS admission in Abroad
Andijan State Medical Institute Quick Overview
Established: Founded in 1955
University Type: Public Institute 
Number of International Students: Less than 3110
Hostel Type: University Hostel
Climate: Hot summers and cool winters
Yearly Tuition Fee:  USD 3800
Eligibility: 60% in PCB
ECFMG Approval: Approved
Last Date to Apply: October 2020
MBBS Fee Structure of Andijan State Medical University 2023-24
Tuition fees vary based on the type of program. Here is the list of Andijan State Medical Institute University MBBS Fees
| Particulars | Year 1 | Year 2-6 |
| --- | --- | --- |
| Tuition Fees | $3,400 | $3,400 |
| Hostel Fees | $500 | $500 |
| Cost of Living | $120-200 | $120-200 |
| Total Fees in Rs | ₹ 335803* | ₹ 335803/year |
These fees include all fees such as study material, documentation, and other miscellaneous fees.
The fee may vary from year to year. Contact our Whastapp number to know full details
Eligibility to study MBBS in Uzbekistan at Andijan State Medical Institute
MBBS in Uzbekistan is popularly known as General Medicine. Therefore, students seeking to study General Medicine at Andijan State Medical Institute must qualify for admission.To be eligible to apply for MBBS in Uzbekistan at ASMI, potential students need to meet certain criteria.
1) National Eligibility Entrance Test (NEET) Medical assessment is compulsory for all students
2) Minimum of 50% in Physics, Biology, and Chemistry is required.
3) Applicant must be up to 17 years old as of December 31 of that academic year.
4) The student must submit a medical certificate and health insurance documents.
5) Valid passport with six months remaining before expiry is required
Syllabus of MBBS at Andijan State Medical Institute
Year
Semester
Syllabus
1st Year
1st Sem
Anatomy
2nd Sem
History and Anatomy
2nd year


3rd-Sem


Biochemistry, Histology, Psychology & Pedagogy, Microbiology, Cell Biology, General Pathology
4th-Sem
Micro-Biology, Biochemistry, Physiology


3rd year


5th-Sem
Pharmacology, Pathology, Micro-Biology, Pharmacology, Path physiology


6th-Sem
Path Physiology, Pathology, Genetics and principles of clinical medicine


4th-6th year


7th-12th Sem
Pediatrics, Oncology, Neurology, Psychology, Obstetrics and Gynecology, Emergency Medicine, General Surgery, Internal Medicine, Primary Care Medicine, ENT, Neurology, Psychiatry, Cardiology
Andijan State Medical Institute Ranking
ASMU has been consistently ranked among the top universities in Uzbekistan. Following is the world and country rank of Andijan State Medical Institute
| University | Ranking (Country) | Ranking (World) |
| --- | --- | --- |
| Andijan State Medical Institute | 60 | 10968 |
Reasons to Join Andijan State Medical Institute
24/7/365 accessibility of Internet network
Binding books and photocopy amenities
Sports arena and playground
Comfy library amenities
Transportation and Medical Amenities
100% Tight Security
Canteen provisions
Advanced labs
Affiliated medical centers
Recreational area
The various medical specialties covered in the school include Pediatric, Therapeutic, Professional Education, Dentistry, Preventive Medicine, Pharmacy, High Nursing Affair and Physicians Advanced Training.
Faculties at Andijan State Medical Institute
The institute has three faculties which include Curative Works Faculty, Pediatric Faculty and the Raising Qualifications of Physicians Faculty. 
The Curative Works Faculty is the oldest Faculty in the institute. It was established in October 1955. It has 14 departments. The Pediatric Faculty was established in 1977 with a focus on training pediatric specialists. The Raising Qualifications of Physicians Faculty mainly focuses on giving doctors practical knowledge, updating their skills with new practices and techniques, developing specializations and working towards a second degree. The Faculty was established in 1984. It only accepts doctors who have worked in their related field for about 3 years.
Campus Life at Andijan State Medical Institute
The school supports international collaboration through partnerships with foreign universities, organizations, foundations and institutions. They include State Medical University Zapara in Ukraine, N.N. Russian Scientific Center of Oncology in the Russian Federation, Jaypee Hospital in India and University of Pisa in Italy. The university has a household service house that contains a barber shop, a sewing room, and a photo salon.
Accommodation facilities at Andijan State Medical Institute
The university provides accommodation facilities to its students. The facilities contain a kitchen, rest rooms, study and computer rooms. The reading room is equipped with several textbooks, newspapers and magazines. The IRC reading room has 76 seats. The internet room is equipped with modern computers. It has a spirituality room that is equipped with TV, a DVD player and literature on spiritual development. 
MBBS in Uzbekistan is an excellent option for all Indian students as well as International who are looking for cost-effective and high-quality education.  Uzbekistan is one of the most attractive and preferred countries in Central Asia for medical studies and has a great reputation for providing quality medical education.
The university system in Uzbekistan is well-performed and has been providing quality education for many years. The environment in Uzbekistan is conducive to medical studies and students can find peace, security, and good quality healthcare services.
Preferred MBBS Destination For MBBS Students
MBBS at Andijan State Medical Institute is very affordable and the cost of living is also quite reasonable. The tuition fees in universities are very low and can be easily afforded by students. The universities also provide bursaries to students who cannot afford the tuition fees.
The government of Uzbekistan also provides financial assistance to students who are pursuing medical studies in the country.