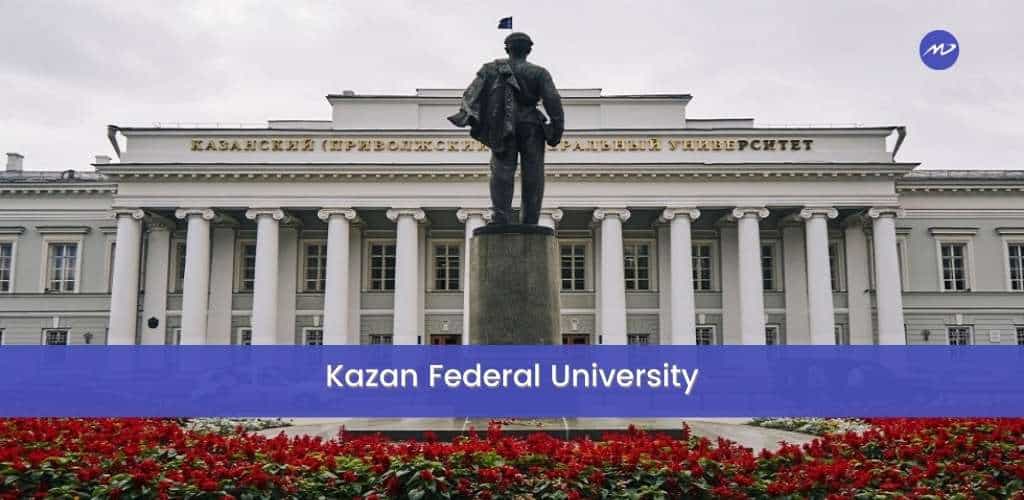 About Kazan Federal University
The Kazan Federal University is regarded as one of the oldest and most prestigious universities in the country. It is the second-largest university in Russia with advanced and modernized teaching methods along with high-quality infrastructure. 
The university is a dynamic, modern institution that actively participates in local and international cooperation. 

The university enrolls over 50,000 students in over 700 undergraduate and postgraduate degree programs each year. KFU also participates in research and exchange programs with 300+ partners in 64 countries, illustrating the university's international outlook.
Since the University was founded, 17 centers of excellence have been set up, as well as 80 world-class research and teaching laboratories.  
University at a Glance:
| | |
| --- | --- |
| Established | Founded in 1804 |
| University Type | Public University |
| Number of International Students | 11,000 |
| Hostel Type | University Hostel |
| Climate: | Long winters, brief summers |
| Yearly Tuition Fee | Ruble 4,68,000/year |
| Eligibility | 50% in PCB, NEET qualification Exam |
| ECFMG Approval | Approved |
| Last Date to Apply | 15 Dec |
Why Study MBBS at Kazan Federal University
Kazan Federal University (KFU) is one of the leading and renowned medical universities in Russia, which provides world-class medical education (MBBS) to students from all over the world. Here are some interesting benefits for students who want to study MBBS Abroad
The university is renowned for its high academic standards and has been recognized by the World Health Organization (WHO) and (NMC)
KFU is having a wide range of specializations in the medical field, with courses ranging from general medicine to surgery, pediatrics, cardiology, neurology and more.
Students can choose to specialize in any of the above-mentioned areas and gain in-depth knowledge of the subject.
From the latest medical technologies and software to the latest laboratory and research equipment, the university is having everything that students need to achieve their MBBS goals
KFU also provides a supportive and friendly environment for Medical students.
KFU is one of the leading medical universities (2nd largest) in Russia and is the perfect destination for students to pursue their MBBS degree in Russia
It is becoming an Ideal choice for all students especially Indians due to its high infrastructure and quality education.
So, if you're looking for a high-growth medical career that will equip you with the necessary tools to pursue a career in medicine. In that case, Kazan Federal University can become an ideal choice for you.
Fee Structure of Kazan Federal University for 2023-24
Tuition fees vary based on the type of program. Here is the list of KFU MBBS Fees
| Particulars | Year 1 | Year 2-6 |
| --- | --- | --- |
| Tuition Fees | 4,68,000 RUB | 4,68,000 RUB |
| Hostel Fees | 6,000 RUB | 6,000 RUB |
| Total Fees in RUB | 4,74,000 | 4,74,000 |
| Total Fees in Rs | 6,87,300 | 6,87,300 |
The Kazan Federal University MBBS fees first year attracts additional fees like medical Insurance, Registration fees, etc. To know the full list please click on our WhatsApp number
Eligibility criteria to study MBBS in Russia at Kazan Federal University
In Russia, MBBS is popularly known as General Medicine. Therefore, students seeking to study General Medicine at Kazan Federal University must qualify for admission. The qualifications for studying General Medicine in this Institution include:
1) The student must appear in the National Eligibility Entrance Test (NEET) Medical assessment.
If you are looking for Universities that accepts MBBS without NEET. You can look at our blog. 
2) The aspirant must score up to 50% in Physics, Biology, and Chemistry.
3) Applicant should be at least of 17 years old as of December 31 of that academic year.
4) The student must submit a medical certificate and health insurance documents.
5) The student must have no criminal report.
Syllabus of MBBS at Kazan Federal University
Year
Semester
Syllabus
1st Year
1st Sem
Anatomy
2nd Sem
History and Anatomy
2nd year


3rd-Sem


Biochemistry, Histology, Psychology & Pedagogy, Microbiology, Cell Biology, General Pathology
4th-Sem
Micro-Biology, Biochemistry, Physiology


3rd year


5th-Sem
Pharmacology, Pathology, Micro-Biology, Pharmacology, Path physiology


6th-Sem
Path Physiology, Pathology, Genetics and principles of clinical medicine


4th-6th year


7th-12th Sem
Pediatrics, Oncology, Neurology, Psychology, Obstetrics and Gynecology, Emergency Medicine, General Surgery, Internal Medicine, Primary Care Medicine, ENT, Neurology, Psychiatry, Cardiology
Admission Process at Kazan Federal University
The Admissions Process is as follows 
Required Documents for MBBS at Kazan Federal University
The college life for students pursuing MBBS at Kazan University is as follows:
Facilities at Kazan Federal University
1. Kazan Federal University features a wide range of living facilities and comfy condos, including the Universiade – 2013 Village dormitories, which have a capacity of 12000 living places. There is a medical centre, a pharmacy, a sports gear rental station, a copy centre, a laundry, a beauty shop, a café, and other amenities. The application is needed due to space constraints.
2. It is Russia's only institution of higher education with plenty of residential units to house all of its students. Hostels are comfortable, with room for 2-3 people, one kitchen, one WC, and a shower. Students cannot select their own rooms. Because the number of available rooms is limited, early applications will be given importance.
3. It provides family stays with host families who have hosted foreign students for so many years. For one month, the cost is 20 000 Rubles. The cost includes an additional room as well as breakfast.
4. It places a high value on students' health and fitness. Just as your identification is, you will find others who are similar to you and will have the chance to meet a diverse range of people who will broaden your perspectives, challenge your presumptions, and with whom you can express your specific beliefs and experiences. It's simple to get involved. There are approximately 50 student teams and organisations to choose from.
Steps to apply to Kazan Federal University
The following is the procedure for applying to the MBBS program at Kazan Federal University
Applicants can apply online by following the steps outlined below:
Step 1: Fill out the application form.
Step 2: Complete the application form completely.
Step 3: Attach the documents stated above
Step 4: Upon completion of all conditions and acceptance, students will be given an interim admission letter.
Step 5: As soon as your visa invitation is ready, the university will mail it to you.
Step 6: After receiving the visa invitation, stamp your visa at the Russian Federation's Embassy (Consulate).
| | |
| --- | --- |
| Medical course | Bachelor of Surgery and Bachelor of Medicine (MBBS) |
| Duration of course | 5 years plus a year of Internship |
| Medium of teaching | English |
Cost of living in Kazan Federal University
The living cost at Kazan city is –
| | |
| --- | --- |
| Activity | Cost (Monthly) |
| miscellaneous | Rs. 5-7K |
| Food charges | Rs. 8-10K |
| Transport cost | Rs. 5K |
| Monthly rent for a Hostel  | Costs between Rs. 8860/year |
Preferred MBBS Destination For MBBS Students
For all the medical degree enthusiasts who are aiming to get into their dream medical college since their school time, Kazan Federal University is all that you need. We are well-known for being one of the best educational advisors in India for making the aspirant's MBBS admissions possible at the world's best Russian medical colleges.
Our positive track record demonstrates that several people have been admitted to the universities of their choice. Our top goal is to assist you to get into top institutions while keeping your expenses to a minimum. We have refined the MBBS admission procedure for all serious applicants.
Not only that, but we will collaborate with you to develop a list of the best academic institutions in Russia which will meet all of the expectations of your perfect college while also allowing you to remain within your admissions budget. After you have chosen the college of your preference through analysis, you will be introduced to the representative who will be in charge of the entire procedure, from the admission form to fee payment. We are here to ensure that you receive the best education possible for the betterment of your future. The only thing you need to be concerned about is your grades; the rest will be taken care of.