January 10, 2019
Posted by:

MBBSDIRECT Editorial

Categories:

MBBS in Russia, Russian University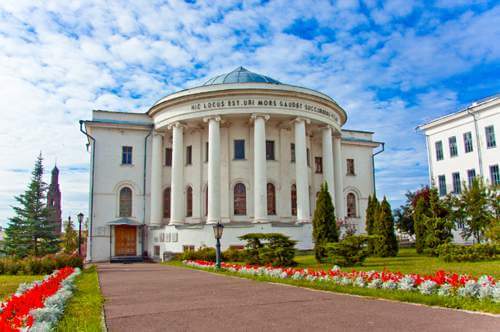 Kazan State Medical University, Russia
University at a Glance
Established in: 1814
Address: Ulitsa Butlerova, 49, Kazan, Respublika Tatarstan, Russia, 420012
The medium of Study: English
Acknowledged by: WHO, Ministry of Healthcare, Ministry of Education and Science of the Russian Federation, and other leading councils.
Average Fee: 400,000 Rupees per year (approx.)
Number of Students: over 5,500
Academic Staff: 1,500
Departments: 65
Library: over one million books of scientific and teaching literature (subscription of 354 foreign and 254 Russian scientific medical journals)
Academic Session begins: 1st September
Weather: Average Temperature is -12°C (January), +20°C (July); Average Rainfall is 70mm
Nearest Airport: Kazan International Airport in Tatarstan, Russia
Food: University Mess Available
About:
Kazan State Medical University is a multi-functional and multi-level state institution for medical education. The university succeeds in developing bio-medical and clinical sciences along with broadening scientific knowledge of medical science. Kazan State Medical University functions on the basis of self-governance and belongs to the system of higher education and scientific research of the Ministry of Health of Russia. In 1994, the university was granted with a license by the State Committee of Russian Federation of Higher Education which issues the right to perform activities in the field of professional education. The university focuses on aimed preparation of experts in different fields of medicine according to global requirements.
Faculty:
The faculties of Kazan State Medical University include:
Faculty of General Medicine
Faculty of Paediatrics
Faculty of Dentistry
Faculty of Pharmacy
Faculty of Preventive Medicine
Faculty of Nursing
Clinical training is performed at 54 units of the Ministry of Health of the Republic Tatarstan. There are 33 general hospitals, outpatients departments, 21 polyclinics, maternity hospitals, dental polyclinics, and others. The total number of beds is about 9,000.
Medicine Program:
General Medicine (MBBS)
Duration: 6 years
Fee Structure:
Tuition Fee: 360,000 Rupees per year (approx.)
Hostel Fee: 40,000 Rupees per year (approx.)
Total Fees: 2,400,000 Rupees (approx.)
Student Life:
Kazan State Medical University conducts athletic programs for the students. During the vacations, the students are provided with the relaxation in the camp "Medic", located on the banks of the Volga River. There is a year-round recreation program including- football, tennis, basketball, swimming in summers, and skiing and skating in the winters. Kazan State Medical University offers its services to international students equally and the student's club is used for different kinds of student activities. Also, students together celebrate different festivals and have their newspaper "Kazan Medical Student".
Accommodation:
Kazan State Medical University has 6 hostels for students. Students are offered different kinds of rooms, differing in size. 2 or 3 students can share the room. The rooms are comfortable, fully-furnished, and well-heated. Hostels provide with Internet access, TV set and telephone. Bathroom and kitchen for students are allotted on the sharing basis. Also, there are special areas for students to socialize and meet new friends. Hostels also have 24-hours guards for students' safety and are very closely situated to the university.